48%
of all cyberattacks targeted government organizations from July 2020 through June 2021.

80%
of nation-state attackers target government agencies, think tanks, and other public sector organizations.

C-
report card grade given by the U.S. Senate Homeland Security Committee to federal agencies for falling short of standards.

Hack The Box has helped hundreds of public sector teams reinforce their capabilities, level-up their security, and maintain certifications by earning CPEs with gamified training and hands-on exercises. In addition, we're proud to partner with some of the industry's most well-known service providers, including Ares Cyber Intelligence, 8bit, and SixGen. Hack The Box can also be found on contract vehicles including SEWP, ITES, FirstSource, and GSA through a multitude of certified Hack The Box resellers.

Ready to see how we can do the same for you? Continue reading below to learn more.
Train, assess, and certify skills
HTB Academy for Business is an interactive, guided, and role-based cybersecurity skill development platform with offensive, defensive, and general cybersecurity content for all experience levels. With unparalleled flexibility and browser-based learning mapped to the NIST NICE and MITRE ATT&CK frameworks, your team can put theory into practice with real-world exercises. HTB Academy for Business also features Pwnbox, a Parrot Security and Linux based hacking cloud box that lets you join HTB Labs directly from your browser with no VPN needed.

As your team progresses through structured educational content, you can monitor team activity, assign coursework, and track progress. In addition you can focus your team's development by aligning their training to specific skillsets, HTB certifications, and job roles.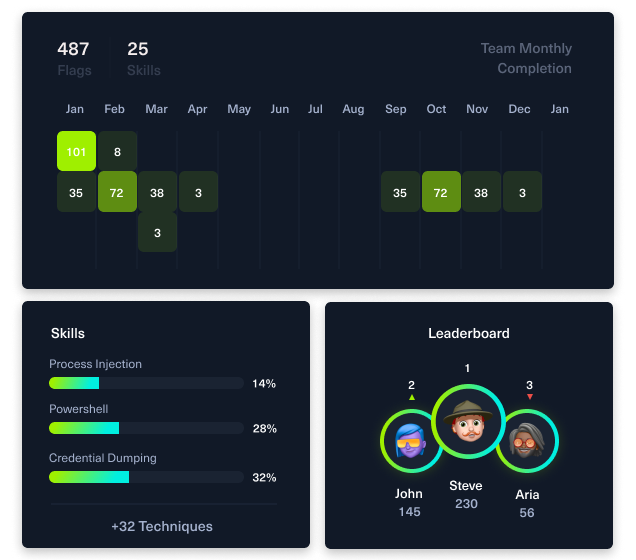 Launch curated labs in minutes
HTB's virtual Dedicated Labs give your team the space to safely practice on system vulnerabilities and misconfigurations at no risk to your organization's infrastructure. This fully customizable private lab environment also allows you to focus on the content that matters most, and advanced filtering helps Admins choose based on difficulty, OS, protocol, attack path or even language.

Each user can spawn their own personal instance and find their way through without interfering with other team members. Fully documented tutorials guide users step by step in a user-friendly way.
Explore realistic corporate scenarios
Move beyond theory and put your team's penetration testing skills to the test in HTB's Professional Lab environment. Featuring multi-layered exercises and a variety of corporate attack types, your team can practice attacking enterprise infrastructures while being introduced to real-world penetration testing and cybersecurity problems.

With eight scenarios available and full control of your training lab, your team will enjoy a seamless user experience as they rotate between labs designed for all skill levels and backgrounds. Once your team has tested their ability to handle misconfigurations, vulnerabilities, and technologies, they can certify their skills with a certificate of completion.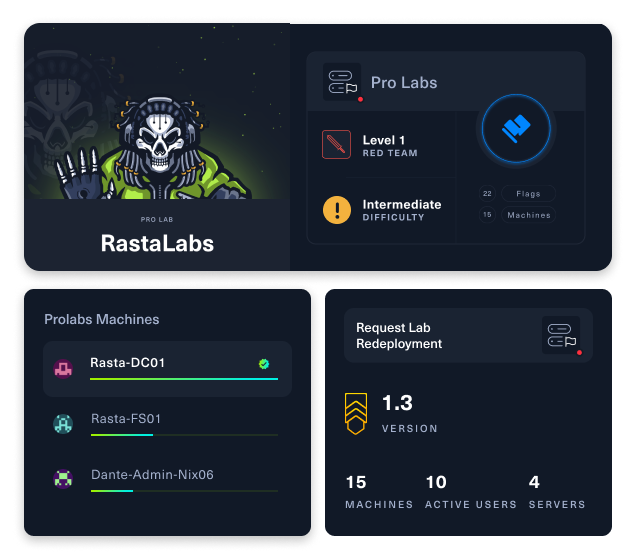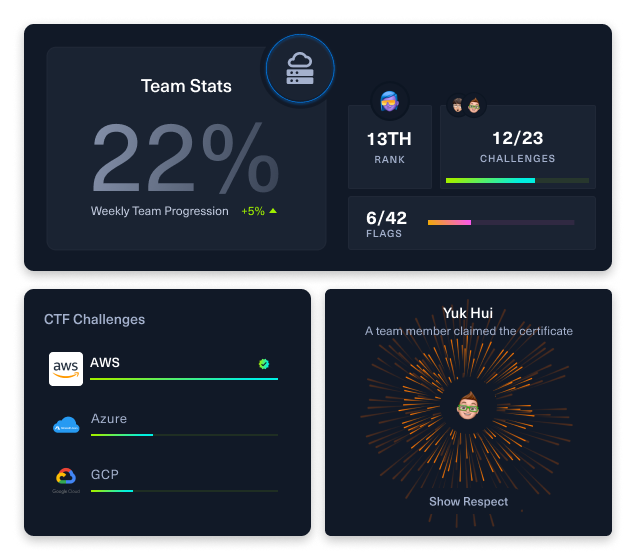 Practice cloud hacking
Cloud infrastructure has quickly become the foundation of modern business operations and with HTB's cutting-edge BlackSky Cloud Labs, your team can learn how to secure it.

With scenarios focused on AWS, Google Cloud, and Microsoft Azure technologies, your team has the ability to practice exploiting common cloud vulnerabilities while developing the skills needed to mitigate risks and protect your infrastructure. BlackSky labs have also been built to include common attack paths seen in real cloud environments, multi-level scenarios, an in-depth skills assessment, and total flexibility for teams of all sizes and locations
Solve security-related challenges
Capture The Flag and Hacking Battleground competitions are customizable, fun-fueled tabletop exercises that allow analysts and leadership to solve challenges that are both cutting-edge and realistic. You and your team can dive into real-world scenarios to earn points, collect badges, join our leaderboards, and once the competition is complete, a detailed after-action report and brief is provided so you can see how your team performed.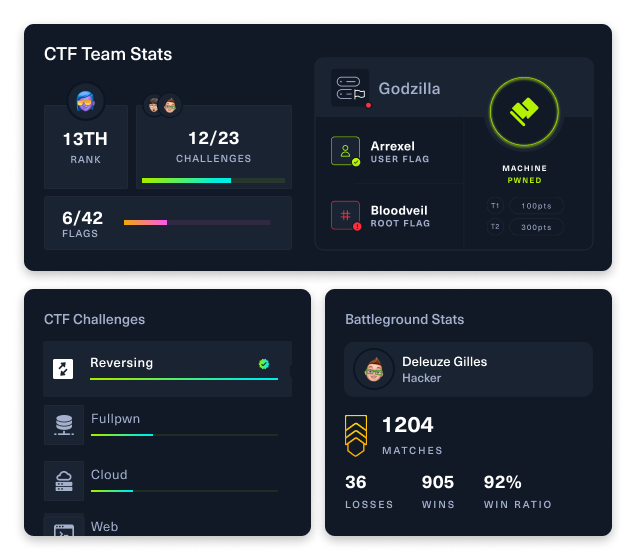 Strengthen your team and cyber defenses
The cyber threat landscape is evolving at a rapid pace, and it's more important than ever to have a team of cyber operators and the resources needed to protect the information you can't afford to lose.

From hiring the right people to keeping them up-to-date on the latest adversarial tactics, techniques, and procedures, it can be overwhelming to think about, let alone prepare for. That's where Hack The Box comes in.

To learn more about how government teams performed during our 2022 Business CTF, you can download our full Cyber Attack Readiness report below.
Understand and control cyber readiness at every stage.
Loved by hackers, trusted by organizations.